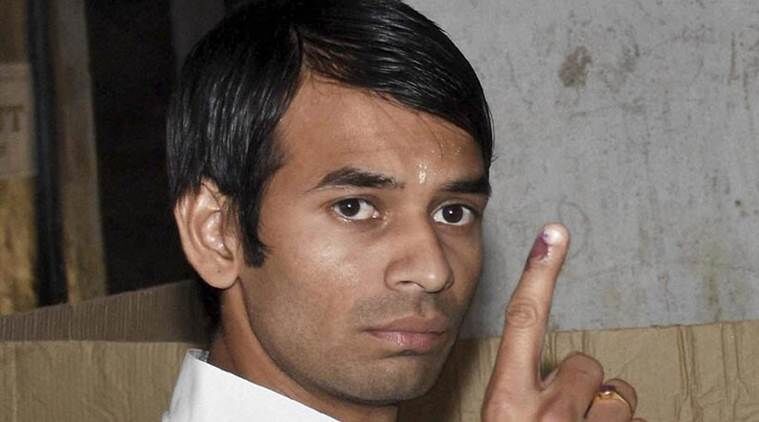 Tej Pratap said that the downgrade of security cover to Lalu Prasad is dirty politics of the Centre and is a conspiracy to kill Lalu. He also added that if anything happens to the RJD Chief, it is going to be the responsibility of Narendra Modi and Nitish Kumar.
Rashtriya Janata Dal (RJD) chief and Lalu Prasad Yadav's son Tej Pratap Yadav on Monday threatened to skin Prime Minister Narendra Modi alive after the Centre reportedly decided to scale down Lalu's security cover. Responding to a question on withdrawal of the RJD chief's Z-plus VIP security cover, Tej Pratap, in a video posted on ANI is shown as saying: "Yeh murder karane ki saazish rachi jaa rahi hai. Unko moohtod jawab hum denge. Narendra Modi ji ka khaal udhedva denge (There is a murder conspiracy against Lalu Prasad Yadav. We will give them a befitting reply. We will flay Narendra Modiji)."
Taking to Twitter, Tej Pratap said the downgrade of security cover is "dirty politics of the Centre and a conspiracy to kill Lalu". He added if anything happens to the RJD chief, it is going to be the responsibility of Narendra Modi and Nitish Kumar.
'Lalu Yadav's son Tej Pratap responds to question on his father's security downgrade, says, 'Narendra Modi Ji ka khaal udhedva lenge'
Tej Pratap Yadav's comments came after it was reported that Lalu will now be given 'Z' category security -— instead of Z-plus VIP security cover of NSG commandos that he has been provided.

Speaking to reporters in Patna, Lalu Prasad, however, said he does not approve of his son's remarks. "If a son comes to know that his father is being conspired against, his security is being revoked, he will react. I don't approve of this. I have spoken to him to not speak anything like that again," he said.
On his security cover being downgraded, Lalu Prasad said he senses a conspiracy against him. " If Narendra Modi thinks I will be scared, I won't. All the people, even the children of Bihar will protect me," he said.
He also accused the BJP of bringing down the political discourse and using national agencies to target the Opposition.
The decision to withdraw Lalu Prasad's security was taken after the Union home ministry recently reviewed the threat levels of various VIP protectees, PTI quoting sources said. The former Bihar chief minister will now be guarded by an armed commando squad of the Central Reserve Police Force, in accordance with the protocol of the scaled down cover, the PTI story said.
Apart from Lalu, the Z-plus CRPF VIP security cover of Jitan Ram Manjhi has been withdrawn completely. He will have state police cover now.
Earlier last week, Tej Pratap was engaged in a war of words with Bihar's Deputy Chief Minister Sushil Kumar Modi, threatening Modi of beating him up during his son's wedding at the latter's residence. Following the threat, Sushil Modi changed the venue citing "security reasons".
Tej Pratap in response said he was "not a criminal or terrorist" and that Sushil Modi should continue with the function "without any worry or fear". Lalu also assured that there would be no untoward incident during the ceremony and apprehensions of Sushil Modi were "unfounded". Tej Pratap has said he would not attend the wedding even though he was invited.
Taking a dig at Sushil Modi, Lalu later said, "What kind of deputy CM is Sushil Modi? He is afraid of a little threat from Tej. My son doesn't have such bad values that he will cause problems at someone's wedding".