NMCG completed India's first HAM project in sewerage sector before scheduled time
CM, Uttarakhand and Minister of Jal Shakti, GoI dedicate the Sarai Project in presence of King and Queen of Sweden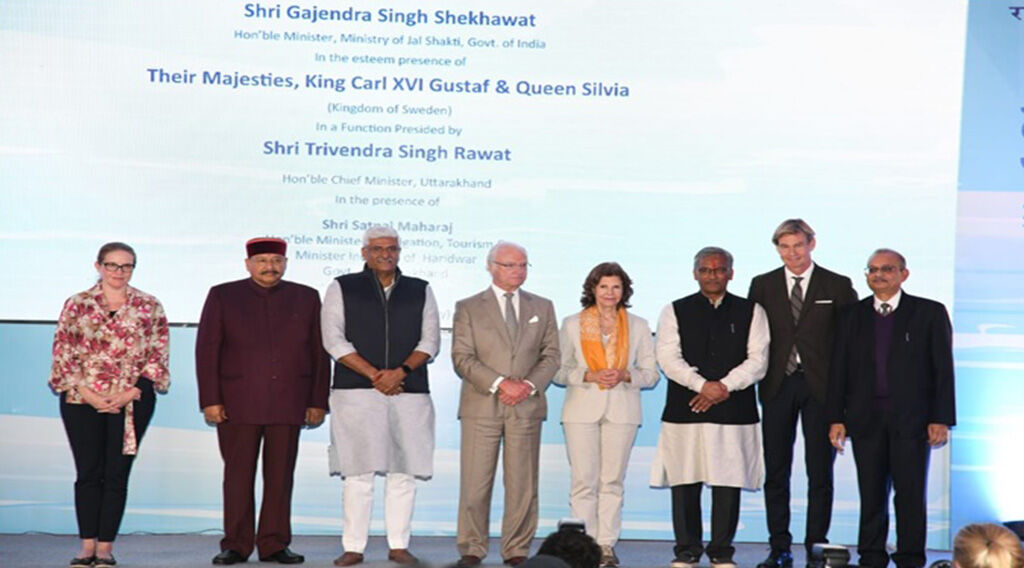 CM, Uttarakhand and Minister of Jal Shakti, GoI dedicate the Sarai Project in presence of King and Queen of Sweden
Their Majesties, King Carl XVI Gustaf and Queen Silvia of Sweden,Hon'ble Chief Minister of Uttarakhand, Shri Trivendra Singh Rawat, Hon'ble Minister of Jal Shakti GoI, Shri Gajendra Singh Shekhawat, Dr. Maja Fjaestad, Secretary of State, Sweden, Mr. Klas Molin, Ambassador of Sweden to India, Shri Rajiv Ranjan Mishra, Director General, NMCG, and Ms. Monika Kapil Mohta, Ambassador of India to Sweden, graced the occasion of the inauguration of the 14MLD Sewage Treatment Plant (STP) at Sarai in Haridwar on the 5th of December, 2019.
CM, Uttarakhand and Minister of Jal Shakti, GoI dedicate the Sarai Project in presence of King and Queen of Sweden

34 sewerage projects sanctioned at a cost of INR 1144.77 Cr for creation/rehabilitation of 165.50 MLD in Uttarakhand, taking care of sewerage treatment requirements till 2035
The Sarai 14 MLD Sewage Treatment Plant is the first STP to be completed under the Hybrid Annuity (HAM) Based Public Private Partnership Model, involving a cost of Rs. 41.40 crores, and the Plant has been completed before its scheduled timeline. This Plant is based on advanced aerobic biological process, Sequential Batch Reactor (SBR) process, capable of removing the nutrients during treatment and is a 100% eco-friendly project. The plant will meet the highest standards of output parameters.
Another unique feature of this HAM project is that after its commissioning, this plant will also be maintained and operated for a period of 15 years by the same developer for efficient performance and for meeting output parameters. The vision of the National Mission for Clean Ganga (NMCG) is long term and hence the capability being created would fully take care of the requirements up to 2035.
Municipal sewage, being the main source of pollution in the Ganga, is being tackled through 150 Sewerage projects at a cost of more than Rs. 23,000 crores (more than 3 billion USD), in addition to various interventions for checking industrial and other sources of pollution in the Ganga basin. Namami Gange interventions extend to urban as well as rural areas covering diverse sectors..
In order to improve the quality of water in river Ganga in the state of Uttarakhand, 34 Projects of Sewerage infrastructure works have been taken up at a cost of approximately Rs. 1,144.77 crores for creating treatment capacity of 165.50 MLD, and for laying sewerage network of 152 kms. Out of these 34 projects, 23 have been completed and the remaining projects are at different stages of execution and implementation. Once all these projects are commissioned, the entire sewage capacity of the state of Uttarakhand would have been met, and there would be substantial improvement in the quality of water of the river Ganga in Uttarakhand.
In addition, projects have also been taken up in Uttarakhand for several Ghats, River Front Development (RFD), Afforestation, Trash Skimmers etc. making the value of total interventions in Namami Gange in the state exceed INR 150 crores.
The visit of Their Majesties of the Republic of Sweden to Uttarakhand was triggered when His Majesty visited the Namami Gange Pavillion at the World Water Week 2019, Stockholm. The King showed keen interestin the way NMCG is carrying out its mission by employing technological interventions and public participation. Seeing his interest, Shri Gajendra Singh Shekhawat, Minister of Jal Shakti, invited him to visit our great river Ganga and also see the Namami Gange interventions.
India and Sweden - A winning partnership.#NamamiGange pic.twitter.com/g8N4xqGvaj

— Namami Gange (@cleanganganmcg) December 5, 2019