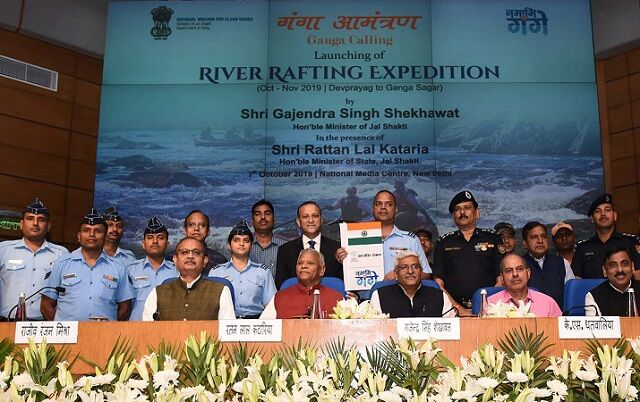 Ministry of Jal Shakti has launched Ganga Aamantran Abhiyan for rafting expedition of over 2500 km from Devprayag to Ganga Sagar.
The newly constituted Jal Shakti Ministry has launched a new Ganga Aamantran Abhiyan – a unique initiative to connect with Ganga's Stakeholders. It includes a rafting expedition of over 2500 km to connect with its various stakeholders.
Reportedly, The 'Ganga Aamantran Abhiyan' is a pioneering and historic exploratory open-water rafting and kayaking expedition on the Ganga River to be held between 10 October 2019 to 11 November 2019. It will start from Devprayag and end at Ganga Sagar, the expedition will cover the entire stretch of over 2500 km of the Ganga River. It will pass through five Ganga basin states, Uttarakhand, Uttar Pradesh, Jharkhand, Bihar and West Bengal. The stops include Rishikesh, Haridwar, Kanpur, Allahabad, Varanasi, Patna, Sonepur and Kolkata etc.
Let us tell you, Shri Gajendra Singh Shekhawat, Minister of Jal Shakti, flagged-off the expedition. He will also be a part of the expedition from Devprayag to Rishikesh.
Addressing the gathering on the occasion, the Hon'ble Minister Shri Gajendra Singh Shekhawat said that, "During the last 5 years under the leadership of the Prime Minister Shri Narendra Modi, the Government has carried out various initiatives in order to restore Ganga's Aviralta and Nirmalta and it has started to show positive results but any such movement that needs sustainability cannot be achieved until and unless it becomes a public movement. In order to connect with the various stakeholders directly or indirectly connected to Ganga, this mega event is being organized.''
It is lead by Wing Commander Paramvir Singh of The Indian Air Force. Note that he is the only person to have swum the entire length of Ganga from Devprayag to Gangasagar in 2015. He is a known sports enthusiast with 13 World, 3 Asian and 7 National Records.
This is the first-ever effort by The National Mission for Clean Ganga to raft across the entire stretch of the river and also the longest ever social campaign undertaken through an adventure sporting activity to spread the message of River Rejuvenation and Water Conservation on a massive scale. The major aim of this expedition is to draw attention to the ecological challenges being faced by river Ganga.