WAPCOS and NPCC organised a conference on "Preventive Vigilance - A key tool to Efficient Management
Shri Pankaj Kumar highlighted about the importance of Vigilance in everyday life and urged all present in the conference to follow the 'Panch Pran'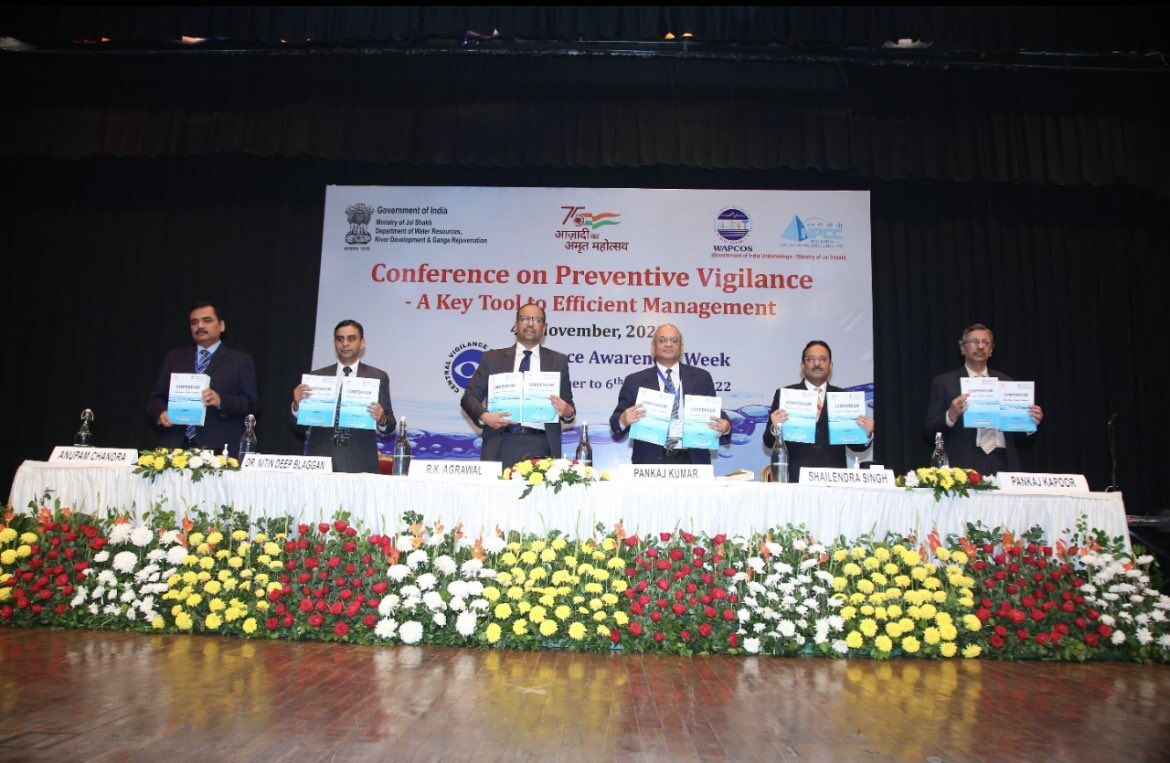 Shri Pankaj Kumar highlighted about the importance of Vigilance in everyday life and urged all present in the conference to follow the 'Panch Pran'
WAPCOS and NPCC are celebrating Vigilance Awareness Week 2022 from 31st October 2022 to 6th November 2022 with the theme "Corruption free India for a developed Nation" incompliance with directives of CVC.
Various activities for creating awareness about the perils of corruption like display of banners/posters at prominent locations, drawing competition, essay writing competitions for children and employees were organised at WAPCOS during the week. NPCC will also be organising poster drawing competition and essay writing competition as per the theme of Vigilance Awareness Week 2022 for children studying in Faridabad and Gurgaon cities.
WAPCOS and NPCC organised a conference on "Preventive Vigilance - A key tool to Efficient Management at WAPCOS & NPCC" on 4th November 2022 at CSOI Auditorium, Chanakya puri, New Delhi. Shri Pankaj Kumar, Secretary, DoWR, RD&GR, Ministry of Jal Shakti, Govt. of India was the Chief Guest.
Shri Shailendra Singh, Chief Technical Examiner, CVC and Dr. Nitin Deep Blaggan, DIG & Head of Branch/AC-I, CBI, New Delhi also attended the conference.
Shri R.K. Agrawal, CMD, Shri Pankaj Kapoor, Director (Finance), Shri Anupam Chandra, CVO, and senior officers from WAPCOS & NPCC were present in the event. CVOs & VOs of organisations under DoWR, RD&GR, Ministry of Jal Shakti also attended the event.

Shri Pankaj Kumar highlighted about the importance of Vigilance in everyday life and urged all present in the conference to follow the 'Panch Pran' as per the call given by Hon'ble Prime Minister Narendra Modi towards his vision for a corruption free developed India.
The Chief Guest also released a Compendium of Instructions & Guideline sat WAPCOS & NPCC during the event which will promote transparency in day-to-day functioning of the organisations.
Presentations were also made by Shri Sanjeev Sharma, National President Anti-Corruption Foundation, New Delhi and Shri D.R. Randa, Principal Scientific Officer (Retd.), Central Forensic Science Laboratory, New Delhi.
On the occasion of Vigilance Awareness Week 2022, CMD, WAPCOS & NPCC administered Integrity Pledge to all the officials. A session on "Transparency - "A Tool To Prevent Corruption" was also conducted to make all employees aware about preventive vigilance. pic.twitter.com/cQipdmjml1

— Ministry of Jal Shakti 🇮🇳 #AmritMahotsav (@MoJSDoWRRDGR) November 4, 2022
WAPCOS and NPCC organised a conference on "Preventive Vigilance" on 4th Nov 22 at New Delhi during Vigilance Awareness Week 2022. Shri R. K. Agrawal,CMD, WAPCOS & NPCC welcomed the Chief Guest, Shri Pankaj Kumar, Secretary, DoWR, RD & GR, Ministry of Jal Shakti, Govt. of India. pic.twitter.com/od5VB5LivN

— wapcosofficials (@wapcosofficials) November 4, 2022