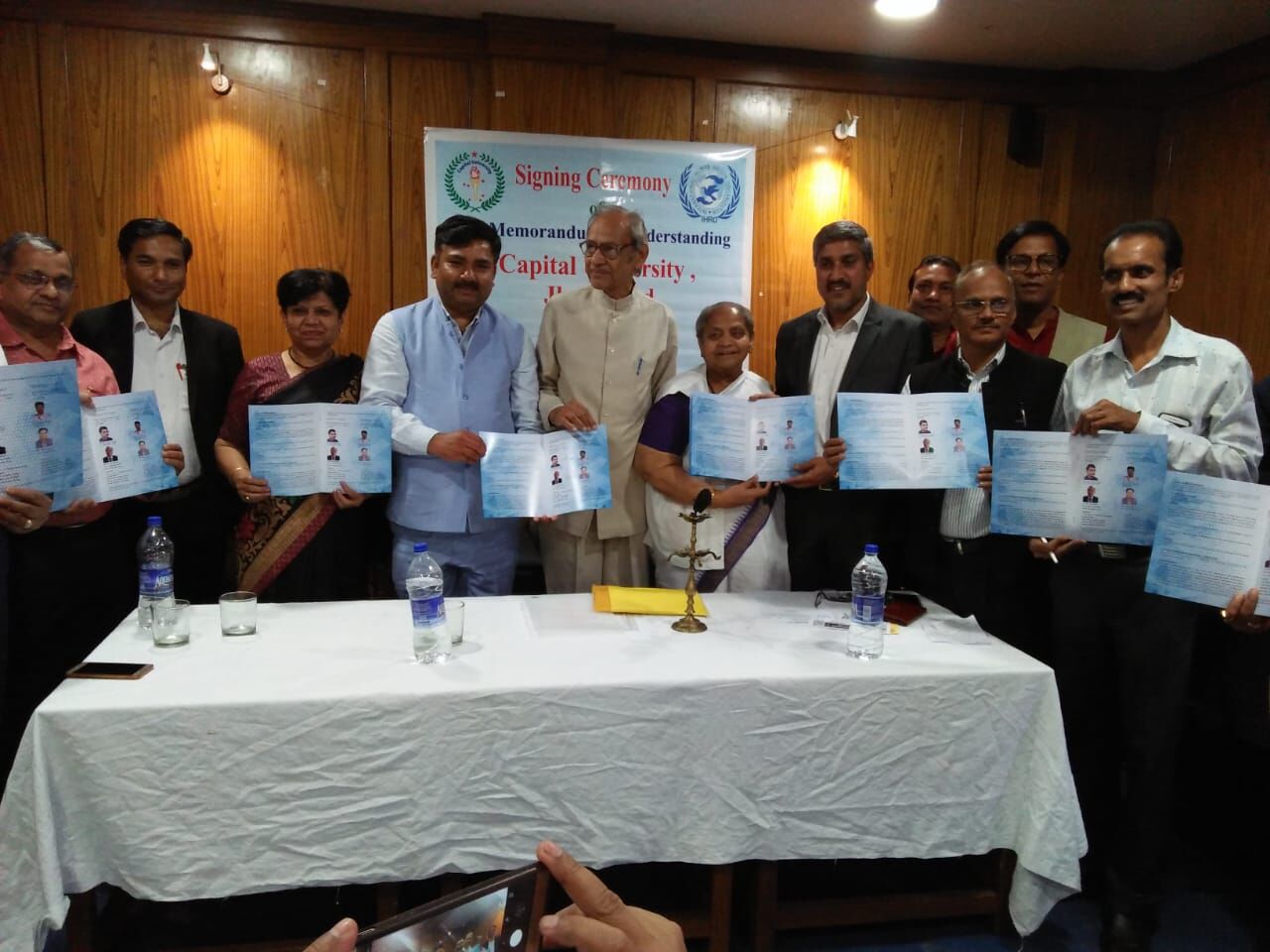 The Capital University Jharkhand (CUJ) has signed an MoU with the International Human Rights Organization to begin Human Rights Course in the University.
Capital University Jharkhand (CUJ) is soon going to launch a human rights course for its students. Today, on 23rd March 2019, the Capital University Jharkhand (CUJ) has signed an MoU with the International Human Rights Organization. The event took place at the Press Club Of India, New Delhi.
The MoU ceremony took place in the presence of Mr Madan Kumar, Chancellor and Mr Pawan Kumar, vice-chancellor of Capital University, Jharkhand and Dr Nem Singh Premi, chairman of IHRO and Dr M.K. Vajpayee, Vice Chairman of IHRO and VC of CUJ.


The ceremony was also felicitated with the presence of various dignitaries who are already working to promote and empower human rights. Dr Ravi Shankar Ravi, Secretary of AIAP, also shared his thoughts on Human Rights and suggested some really effective ways to promote the same.
This MoU would help both the organizations in spreading awareness towards Human Rights and Social Justice at National & International Level. They agreed to co-operate each other in various areas including any program/course offered at either institution as felt desirable and feasible on either side mutually possible and useful for the society. CUJ and IHRO also decided to start the Bachelor/Master/Diploma Programmes related to Human Rights and Social Justice. The objective of MoU is that both organizations jointly organizing seminars, conferences, stakeholders meetings, industry interface, NGO/social welfare workshops, training programs, technology exposure visits etc. towards promoting awareness regarding human rights and all allied sectors.
This is definitely going to be a whole new field of scope for the students. As we all know that Jharkhand is considered one of the deprived states in India so initiating this course in a University of Jharkhand is itself a great step. We hope that the knowledge of Human Rights will help the students to alleviate the lifestyle of local people by promoting human rights among them.