4th India Water Impact Summit 2019 organized by NMCG
According to the 2011 census 377 million people are living in urban areas. By 2030, the population of urban India is expected to grow to around 600 million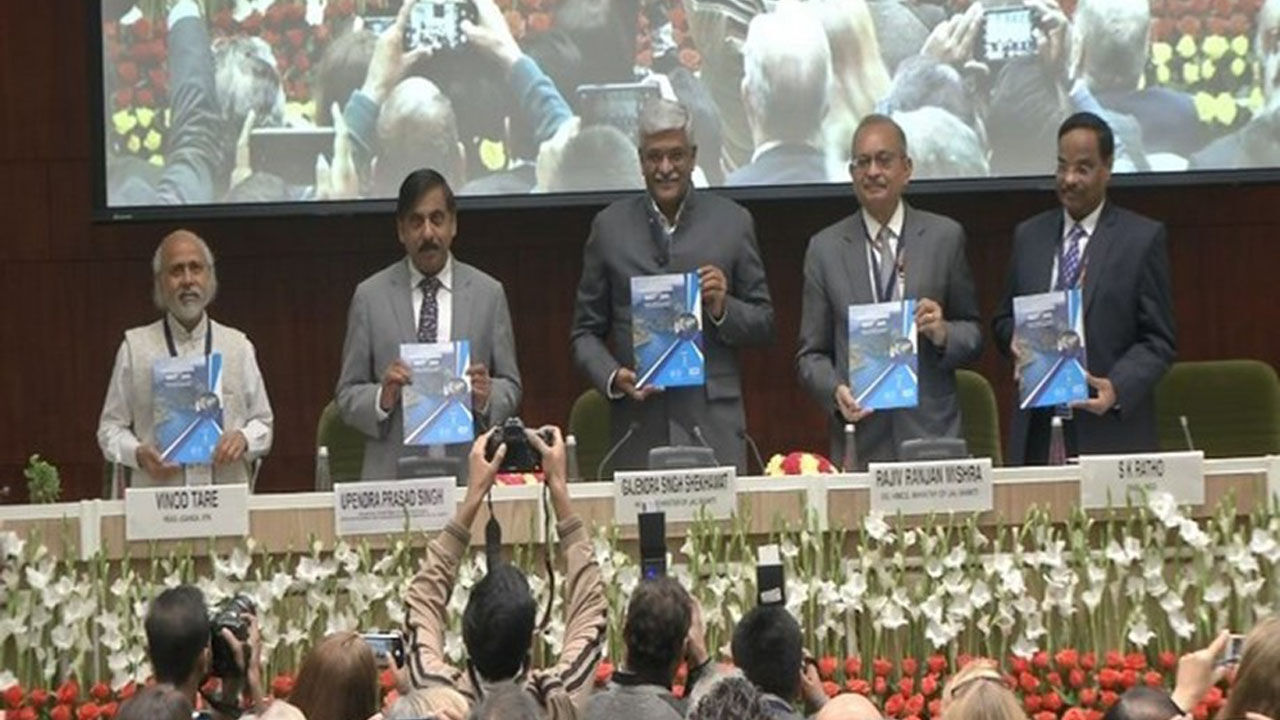 According to the 2011 census 377 million people are living in urban areas. By 2030, the population of urban India is expected to grow to around 600 million
The Minister of Jal Shakti, Shri Gajendra Singh Shekhawat, Shri Ratan Lal Katariya, Minister of State Jal Shakti, Shri Sanjay Kumar Jha, Minister, Water Resources, Bihar, Shri UP Singh, Secretary, Ministry of Jal Shakti, Director General of NationalMission for Clean Ganga, Shri Rajeev Ranjan Mishra, Head of cGanga, Professor Vinod Tare and Deputy Director General of NMCG, Shri Shishir Kumar Ratho were present at the three day 4th India Water Impact Summit 2019 held at Vigyan Bhawan, Delhi. More than 1000 domestic and international delegates from 15 countriesparticipated, in addition to representatives from the Central, State and Municipal Governments.
India takes the lead on global water stewardship inviting the world to join and use its river basins as a natural laboratory for both increasing our understanding on water issues as well as solve the major water stress related challenges that humanity is facing.
Addressing the participants attending the summit, Shri. Shekhawat said, "We all know that 18% of the world's population lives in our country and we have only 4% of the world's water resources. In addition, India's urban population is growing at a rapid pace.' According to the 2011 census 377 million people are living in urban areas. By 2030, the population of urban India is expected to grow to around 600 million thereby placing immense burden on natural resources like rivers and water bodies.
To ensure committed focus on improving the water situation in India, a dedicated Ministry of Jal Shakti has been set up by Hon'ble Prime Minister Shri Narendra Modi this year, for integrated and holistic management of water resources in India."
The Minister further elaborated, "We launched the "Namami Gange" program as an integrated mission for the conservation of Ganga and its tributaries in the year 2016. Under this, about 305 projects of various types have been taken up so far at a cost of 28,000 crores (about US $ 4 billion). Apart from pollution eradication, the Namami Gange program gives equal importance to ecological flow, biodiversity conservation, capacity building, research and monitoring and public awareness. "Aviralta" is equally important in the conservation of the river Ganga and we have decided to ensure that the required level of ecological flow in the river is always maintained and a notification to this effect has been issued on 9th October 2018."
The Minister launched a report on International Cooperation on water. India is not only partnering with nations to bring new solutions but also down-streaming these solutions to other nation such as those in the African continent.
He also launched a concise guide on River restoration and conservation. The report captures the work of experts who are now creating a new paradigm of establishing base level river organisations, so that the Namami Gange programme spreads rapidly but taking a bottom up approach. The need is to solve the pollution problem at its source, which is the base level tributaries.
Using this paradigm, the programme is embarking on a new initiative of rejuvenating small rivers and drains. 5 drains have been selected for this initiative. These are: Najafgarh in Delhi, Assi in Varanasi, Sisamau in Kanpur, Kahn in Indore and Jojri in Jodhpur.
Knowledge Hubs have been setup onthe following:
Data and information - that will harmonise all disparate data sets and interconnect various data repositories
Circular economy - that will lead on creating a framework for valuing water and encourage reuse.
Water finance - that will develop a range of innovative financial instruments.
The Namami Gange programme in the long run needs 7-10 lakh crores and that kind of funding can only come from tapping into the global capital markets. The programme is now embarking on structuring the Ganga River Bond to raise long term capital.
The environment technology verification (ETV) framework has been activated to bring in novel technologies and innovations. 15 solutions have been selected out of 200 in a range of segments such as space remote sensing, flood modelling, containerized waste water treatment plants, efficient agricultural water technologies, waste and sludge management.
The framework will also link into the flagship programmes Make in India, Startup India and Digital India to create a large water based economy.
In order to mobilise Indian diaspora's keen interest in the Namami Gange programme, a daughter fund of the Clean Ganga Fund is being set up in the UK. Additional daughter funds will be set up in other countries as well in due course.
The fourth India Water Impact Summit provided an opportunity to showcase new technological, innovation research, policy framework and investment models created around the world and within India, along with multi-country dialogues for strengthening India and international cooperation in the water sector. The Summit also provided a platform for civil society and leaders to join scientists, engineering, industry, finance and government representatives in brain storming on critical issues in the River restoration and conservation and water sector.
Shri U.P Singh, Secretary, DoWR, RD & GR, Ministry of Jal Shakti at the 4th India Water Impact Summit 2019 at Vigyan Bhawan, New Delhi.

The summit is focused on integrated water resources management in urban and rural areas. pic.twitter.com/86oHSeIwuz

— Ministry of Jal Shakti, DoWR,RD,GR (@MoJSDoWRRDGR) December 6, 2019
The 2nd day of India Water Impact Summit 2019 began with the esteemed panel of MoJS, Shri Gajendra Singh Shekhawat, Secretary-MoJS, Shri U.P. Singh, DG-NMCG, Shri Rajiv Ranjan Mishra, DDG-NMCG, Shri S.K. Ratho, and Professor & Founding Head-cGanga, Shri Vinod Tare. #IWIS2019 pic.twitter.com/ZcWLLF5RW0

— Ministry of Jal Shakti, DoWR,RD,GR (@MoJSDoWRRDGR) December 6, 2019